Successfully Implementing a Proactive Maintenance Philosophy
Wood County Facility Maintenance Case Study
Wood County Profile
Wood County, WI is located in central Wisconsin about a two hour drive north Madison. Made up of a collection of small communities, Wood County offers a picturesque view into Wisconsin living with a scattering of farms, woods, and lakes. The Wood County facilities team manages a handful of county buildings including the courthouse, jail, two patient care facilities, and a few health/human services buildings and park buildings.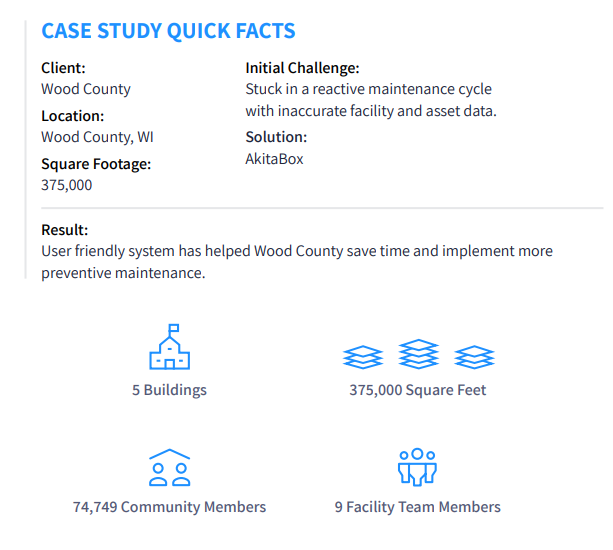 Reuben Van Tassel has been the facilities manager at Wood County since 2016.  From day one, he was faced with challenges in maintaining the county buildings, "As soon as I arrived, I was looking to improve our maintenance philosophy." Aging and underfunded facilities contributed to a very reactive, costly, and time consuming maintenance program.
After doing some research, Reuben first chose a well established CMMS software provider over AkitaBox to help tackle these challenges . Going with one of the big providers seemed like the right choice at the time, but after getting a chance to use their system he realized it didn't deliver what he needed. As he puts it, "I quickly realized that the usability of the software was more important for our department." Reuben decided it wasn't going to work and made the switch to AkitaBox.

Wood County Benefits

With AkitaBox, Reuben has seen big improvements to their asset tracking and work order processing. "AkitaBox is our one place to go and find information like user manuals, filter sizes, or assigned work orders," said Reuben.
With these improved processes, the Wood County facilities team has been able to better handle their reactive work and focus more time on preventive maintenance. In addition, the combination of a better user interface and the building floor plans are saving the Wood County team a lot of time in their daily work and has made onboarding new hires easier.
The location-based asset mapping is delivering value beyond just the facilities team. One example is when IT was putting in a budget request for wireless upgrades in the county buildings. Instead of using old blue prints, Reuben was able to simply show them AkitaBox so they could complete the walkthrough. "I get a lot of requests from people for current layouts. I really like that I have a single source for these in AkitaBox," says Reuben.
One thing Reuben is looking forward to in the future is using the data in AkitaBox even more in his discussions with his county board. Being able to provide data around maintenance costs, asset conditions, and strategies will help the board understand the challenges still facing the county and improve their collaboration.
"We finally have access to accurate equipment records, work orders, and floor plans. That is a huge step for us."
Reuben Van Tassel  •  Facilities Manager
Feature Highlight
DATA COLLECTION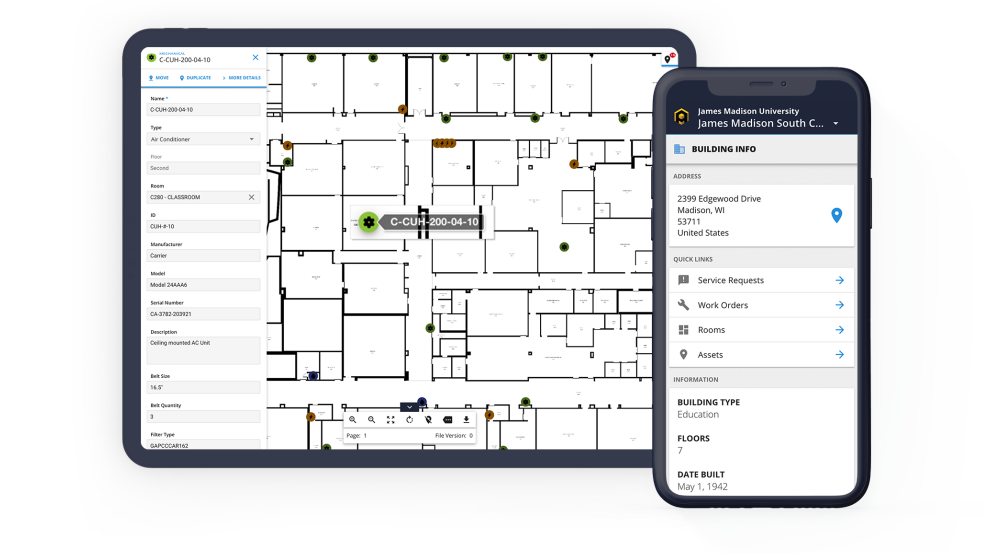 The AkitaBox value for Wood County goes beyond the easy-to-use software. As a part of their 90 day implementation, an AkitaBox team went onsite to collect the space and asset data. This facility data was then uploaded to Wood County's AkitaBox solution, saving Reuben and his team time and effort.
"The data collection and implementation was a huge benefit. Getting all the asset information into a database where you can see it, add to it, and keep it accurate is so valuable."
Reuben Van Tassel  •  Facilities Manager
Ready to Take Your Facilities Management to the Next Level?
Talk to an AkitaBox software advisor today.
Request Demo