A Revolutionary Approach to Hospital Inspections
UW Health Case Study – AkitaBox
UW Health's Facility Portfolio
UW Health is an academic medical center and health system located in Wisconsin.
The renowned UW Health hospital is a Level 1 adult and pediatric trauma facility located in Madison, Wisconsin. Serving over 600,000 patients every year, the hospital houses 505 beds across 14 floors and relies on critical assets to operate successfully every day.
The UW Health system is also home to one of the most successful burn centers and organ and tissue donation centers in the nation. UW Health is accredited by the Joint Commission, and through rigorous maintenance and inspections of assets has achieved the Gold Seal of Approval for hospitals, clinics, and laboratories.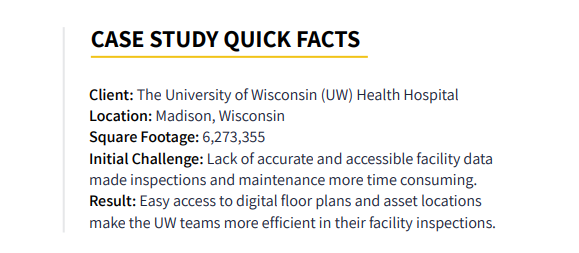 Facility Management Challenges
The facilities team at UW Health is responsible for keeping vital systems operational for doctors, nurses, staff and patients. To do this, preventative care is required for critical assets. The facility teams at UW Health rely on daily inspections to monitor these systems for malfunctions.
However, the UW team experienced three specific challenges that put their preventative measures at risk:

Missing or Inaccurate Facility Data
The main hospital is a complex building comprised of 14 floors with interstitial space located below to house mechanical systems. The facility team's ability to navigate the building is a top priority, especially when critical assets are failing and require attention. Without up-to-date building data, the facility and trades teams faced the challenge of not knowing where specific assets were located against a floor plan.

Limited Methods of Communication
The facility team at the main hospital works multiple shifts and interacts daily with specialized maintenance and trades teams. The facilities department struggled to find a holistic program that would share critical asset information, including routine inspections or performed maintenance, across building teams.

Outdated Facility Software
After the software solution that the facilities team had been using to document inspections and maintenance was retired by the vendor, the department struggled to find the right replacement solution and even switched to a paper-based system in the interim. This slowed down response times, increased the difficulty of asset inspections and meant that the hospital was stuck storing large amounts of paper documentation for compliance purposes.
The AkitaBox Process
UW Health ultimately chose AkitaBox for its industry-leading, turnkey data collection process, which would allow them to acquire the data they needed to accomplish their greatest challenge:
Define inspection routes by mapping fire extinguishers across buildings.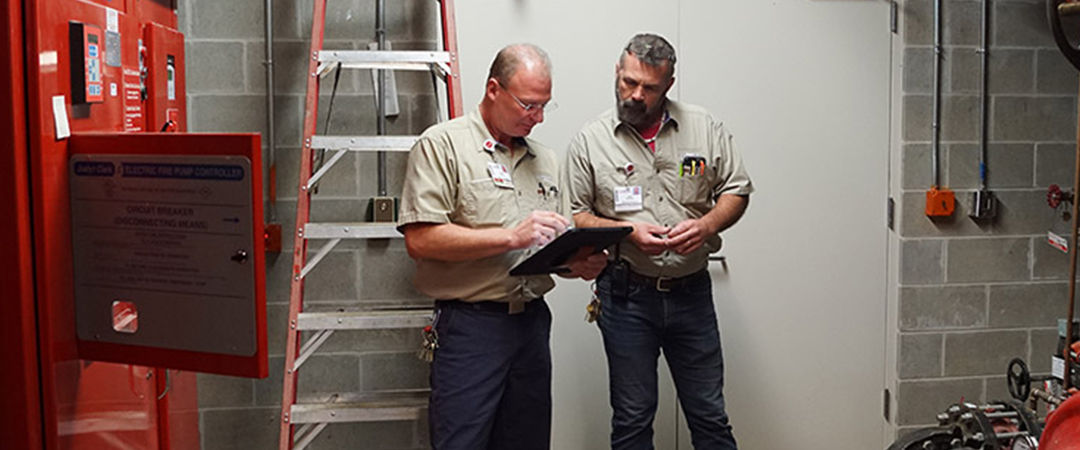 Real Results with AkitaBox
UW Health saw a number of immediate results from their partnership with AkitaBox.

Reliable Data
UW Health was able to use the collected facility data to stay on top of critical inspections and required compliance measures.

Faster Troubleshooting
Without barriers to AkitaBox customer service, UW Health was able to get same-day responses to questions or software concerns.
Reclaimed Resources
Time spent filling out paper work orders or inspection checklists was reclaimed, allowing technicians to focus on open work orders.

Expedited Triaging
Because information was easily accessible, triaging maintenance requests became faster and allowed for proper delegation to the right team.
Optimized Training
Employees new to UW Health facilities and trades teams were able to be fully trained on the AkitaBox software within their first week.
Improved Communication
Staff could share and access building data that was previously inaccessible across departments and teams.
"Our AkitaBox program is growing, and I can't believe how far we've come in such a short time. We have a certain level of responsibility that we like to hold ourselves to in this building. We want people to be happy and safe. AkitaBox helps us accomplish this."
Todd Erdman  •   Maintenance Technician, Sr, UW Health
More Efficient Inspections with AkitaBox Delivers Premium ROI
Thanks to having accurate digital floor plans and asset locations in AkitaBox, the UW Health facility team has been able to better plan their inspection routes and find each stop more quickly.
Technician time spent completing inspections: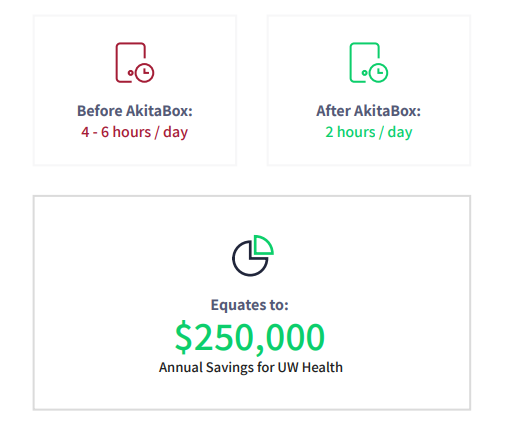 Another example of how AkitaBox has helped UW Health complete their inspections faster is with their fire damper testing. The Joint Commission requires testing every six years but UW Health does it every four to align their clinics and hospital.
Before AkitaBox, completing this test took two people an entire year to complete. After implementing AkitaBox, the UW Health team was able to complete the same test in just 2 months.
"We recently had a new team member start, and on his first or second day, I was able to hand AkitaBox to him to start fire extinguisher inspections. That's how easy it is to use this software. It makes training our team easier."
John Mortimer  •   Control Room Lead Maintenance Technician, UW Health
Ready to Take Your Facilities Management to the Next Level?
Talk to an AkitaBox software advisor today.
Request Demo