A Large Church Goes from Reactive to Proactive Maintenance
Blackhawk Church Case Study
Blackhawk Church's Portfolio
Blackhawk Church is a community of dedicated staff and faithful members who occupy three beautiful church buildings across southeastern Wisconsin. The organization's maintenance team works around the clock to provide a clean, safe and peaceful environment for congregants to worship, learn and connect.

Church Facility Management Challenges
Originally, the team worked primarily off of a paper-based system. A tedious and often time-consuming paper-based workflow made it difficult for the staff of three to keep up with the high standards they have set for their department. The team quickly realized that optimizing facility operations was a necessity, particularly if they want to maintain operating costs, keep up with the amount of incoming work orders and effectively run the team.
[X]  Used an Outdated, paper-based system
[X]  Needed more accurate budgeting methods
[X]  Struggled with Managing team responsibilities
[X]  Needed to implement auditing best practices
The church facility team evaluated a number of solutions but found AkitaBox to the best fit for their organizational needs. The AkitaBox team then consulted with Facility Director Matt Kautzky, who advised them on specific needs for the facilities. AkitaBox then used this information to create a custom-tailored implementation and onboarding program.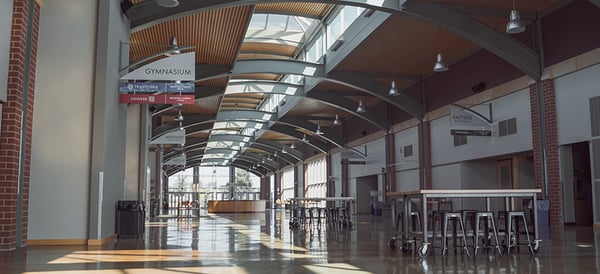 In the end, over 131,886 square feet of data was collected, including placing QR codes on assets and taking 360° degree photos of mechanical rooms for the facility teams to access in the software. The entire process end-to-end took less than 90 days to complete, which is a huge feat considering the size of the church and the many activities conducted within it throughout the year. Downtime and interruptions to the church were minimal.

"The communication from our Customer Success Manager has helped us put all the pieces of this program together. Responses from the AkitaBox team have been within the hour, even if I don't leave a message when I call. The Customer Success team has even accommodated customized requests for my buildings when I brought them online, such as adding floor drains to interactive floor plan maps."
Matt Kautzky  •   Facility Director
Real Results with AkitaBox
Since the final deployment in February, the church has seen phenomenal results in their maintenance program; efficiency gains, improved communication and additional transparency into the day-to-day operations. Kautzky has set up workflows for his team that proactively assign tasks when things break or need to be routinely fixed.
On average, Kautzky says his team's work orders are completed within the day. In addition, his team has gotten their reactive versus preventive work order ratio down to almost 1:1, which is an incredible statistic.
Statistics: Blackhawk Church Work Orders
<1 Hour

5 Hours

0%

1.5 : 1

Average Labor Hours
Average Duration
Cancelled Work Orders
Preventive to Reactive
Work Orders
The benefits go beyond maintenance for the church. Kautzky is bringing a new building online and brought the AkitaBox team in before walls were constructed and has been able to put a maintenance plan in place before the building was operational.
In addition, he says that now that every room in each church building has a square footage assigned to the facility, audits have been transformed for Blackhawk. They now have a price per square foot for their budget, which is a key metric to determine if they are in line with other churches as they go through the audit process. This has revolutionized the way audits are conducted and helps accounting with preparation for future audits.
In the future, the church plans to continue to build out the AkitaBox software program and utilize it to its fullest, giving congregants and staff the best possible facility experience and a serene place of worship.
"I now have a way to monitor work as it comes in and make sure it never goes past due. AkitaBox also helps me assign time to my team so that my staff know which tasks they should be working on and when."
Matt Kautzky  •   Facility Director
Ready to Take Your Facilities Management to the Next Level?
Talk to an AkitaBox software advisor today.
Request Demo