Facility Management Software Cut Trips to Multiple Job Sites by 75%
Oldham County Profile
Oldham County is located just outside Louisville, KY along the Ohio River and home to just over 60,000 people. The maintenance department manages a wide range of county buildings, some dating back to the early 1900's. Most of the buildings were not originally built for government use, but have been purchased and repurposed over the years.
Client: Oldham County Government
Location: Oldham County, KY
Square Footage: 275,000
Initial Challenge: Unorganized facilities information and reliance on memory caused long delays in maintenance response times.
Solution: AkitaBox
Result: Oldham County is now able to handle maintenance more proactively and be more efficient in their daily work.


Oldham County Challenges
With no system in place for handling work requests and work orders, staying on top of everything was difficult for Rodney and Joseph, the assistant maintenance director. "They would give us a call or catch us while we are passing by, so it was hard to remember all of the things," said Rodney. In addition, there were some buildings causing constant issues for them but they had no way of tracking what work that was done previously.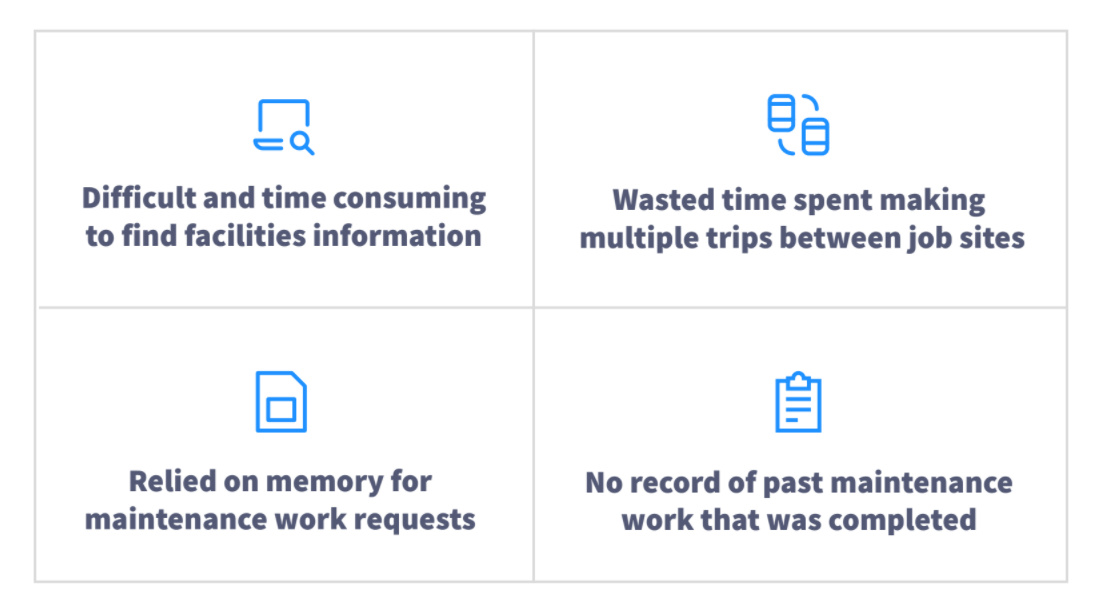 Rodney realized that Oldham County needed a software solution. During his search, AkitaBox's visual and simple design stood out as different from the other providers he had looked at.
Oldham County Benefits
Since implementing AkitaBox, Rodney and Joseph have been able to get a handle on incoming service requests and be more proactive in their maintenance. Having notifications and a digital record of current and future maintenance work is allowing them to be more efficient and respond faster to service requests. AkitaBox is not only helping the maintenance team today but has set them up for success into the future.
"10 years down the road if one of us is gone, they can jump in and see everything documented and look back as far as they want."
Joseph Kelley  •   Assistant Maintenance Director
One of the biggest benefits for Rodney and Joseph has been the location-based asset mapping. 2D digital floor plans provide the team instant access to asset locations and information they need to be better prepared for their jobs. Before AkitaBox, 75% of the work required multiple trips between job sites. These multi-trip jobs have been nearly eliminated because, as Joseph says, "Our team can better anticipate what they are going to need before they go."
Oldham County is continuing to build out their AkitaBox solution, adding pins for things like lights and wall sockets while adding custom pin data fields so they can track things like paint color and carpet types. "The experience has been really good," said Joe. "We love it. AkitaBox is doing everything we need and then some."
Ready to Take Your Facilities Management to the Next Level?
Talk to an AkitaBox software advisor today.
Request Demo